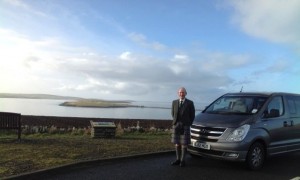 Both of us really know our Orkney. We bring not just knowledge but a wealth of local experience of the Orkney way of life. There are family tales about winning the Ba' and finding unexploded depth charges in fishing nets.
David is originally from Liddesdale in the Scottish Borders. He is a historian by training and family connection –  a close relative was a Scottish Historical Novelist as well as being one of the first women to hold a pilot's licence.  He first came to Orkney in the 1970s and moved here in 1992 to become Chief Executive of a local organisation after earlier similar posts in  Edinburgh and London. Historical and cultural tours are his special interest. Find out about Orkney's links to Mary Queen of Scots, Bonnie Prince Charlie (and his friend in need, Flora MacDonald).
David and Margaret first met through a St Magnus Festival  production of Midsummer Night's Dream. Margaret is an Orcadian from the Orkney Island of Sanday. Her father's family lived in Sanday for generations. Her mother is from the Manchester area – her parents met through her father being stationed there just after the war.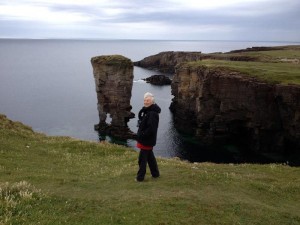 Margaret has taught in Orkney and Dawson Creek, British Columbia, travelling as far afield as Mexico and Alaska while there. She has led groups of teachers on study tours in Malawi and New Zealand as well as playing lead roles in our thriving arts scene – from singing at the Orkney Folk Festival to performing in the St Magnus Festival and the Edinburgh Festival Fringe. She also leads storytelling tours in Viking Costume!
When we're not guiding we walk Rory, our dog and go to many of the events listed on the Events Page. At Christmas and New Year, Margaret hopes the Doonies will win the Ba' and was delighted when her nephew Robbie, won the New Year's Day Ba'